Linda Mihara, 1981 Queen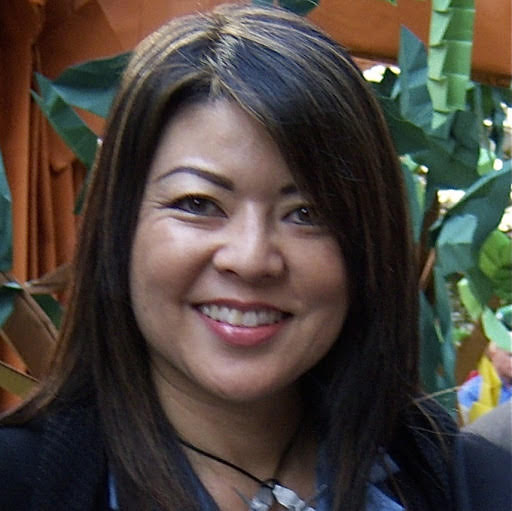 "While there are many things which I remember fondly about my experience with the Queen Program, there was one thing which stands out: It was during the final rehearsal, the morning of the Pageant, and it was my turn to go through my Talent presentation (Origami!).  I stepped up to the mike, and I totally 'froze-up' and could not remember a single word of my presentation!  What to do? Talk about stress!Now it's Pageant time, and my turn for the Talent portion. Before going onstage, I remember taking a deep breath and telling myself to do my best, that it will all be OK. I had to trust in myself that I could do this. It went well!I learned the importance of TRUSTING YOURSELF, your beliefs, your talents, your gut. An important thing to learn as you face challenges in your life."
A San Francisco native, Linda Tomoko Mihara began her lifelong Origami journey at age 5. She is the granddaughter of Tokinobu Mihara, author of two of the first books on Origami written in English in the early 1950's.
Linda received the 2015 Asian Pacific American Heritage Award from San Francisco Mayor Ed Lee for her work in Origami design and contributions to the Asian Pacific American community. She has won awards for her innovative Origami art, including several Awards of Excellence, and a Juror's Award from the California State Fair Fine Art Competitions.
Linda's professional folding is used in both private and commercial work; she appears at conventions and events around the world.  Her clients include Pixar, Hermés of Paris, Chanel, Industrial Light and Magic, Chloe, Louis Vuitton, Dropbox and Seiko.  She has created origami for TV commercials for Disney, McDonald's, Mitsubishi Motors, Clear Haircare and Febreze.  Linda has curated several Origami exhibits in San Francisco, Marin County, and most recently at the National History Museum in Taipei, Taiwan.  She also manages the family business, Paper Tree, located on Japantown's Buchanan Mall.
---
Rene Shimada Siegel, 1982 Queen
"I applied for the pageant when I was only 18 years old, and to be honest, it was a rebellious act. I was at college, on my own for the first time, and applied without even telling my parents. When my grandmother found out, she said, 'You can't do that. You don't have any talent!' I was shocked when I won, and that amazing year changed my life. I found my voice, my confidence, my Japanese heritage, my passion for helping others. I even changed my major from chemical engineering to public relations. I'm eternally grateful for my Cherry Blossom experience!"
René Shimada Siegel is the founder and president of High Tech Connect, a marketing and communications consulting firm, and a public relations professor at San Jose State University. René created High Tech Connect to empower her Silicon Valley marketing and communications colleagues with expert consultants. She's also a columnist for Inc.com, and has been featured in Forbes, The Wall Street Journal, and Newsweek Japan. René is also a frequent speaker on entrepreneurship, career advice, social media, and personal branding. She is a proud mother of three children—two in college and one working in New York—and she and her husband live in Livermore, California.  
---
Dina Brooks, 1991 Queen
"It had never crossed my mind to enter the Queen Program until several people encouraged me to do so during college. I ultimately decided to participate and am so glad I did because it turned out to be one of the most memorable events of my life.  The most significant memories revolve around the people I met throughout the year. It was inspiring and eye-opening to see the hard work and dedication of tireless volunteers who produce the program year after year for the benefit of young women in our community. I was deeply moved by the support, generosity, and hospitality that my court and I received from other queens and courts, organizers, sponsors, and luminaries representing SF, LA, Seattle, Hawaii, Tokyo, and Osaka. I am immensely grateful for these amazing people and the many lasting friendships that were formed."
Dina Brooks is a native San Franciscan who has parlayed her successes working in high tech executive briefing programs, search firms, public relations/special events, and sales into a rewarding career as an independent consultant and copywriter. She specializes in collaborating with female entrepreneurs running Bay Area businesses. Dina is a lifetime member of the Cherry Blossom Alumnae Association and was honored to be a judge for the 50th Anniversary Northern California Cherry Blossom Queen Program in April of 2017. She has two children, Chase and Chloe, and resides in San Francisco with her husband James.
---
Cindy Sakai, 1997 Queen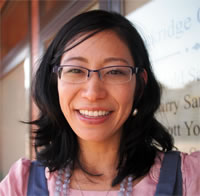 "There's no doubt to me that being in the QP positively impacted my life. Looking back, I realize that even though we had much better opportunities for education than earlier generations, there wasn't a lot for women in terms of community leadership. These days it seems that there's more awareness about the need for more women leaders and I think that the Queen Program exemplifies those objectives. Furthermore, the uniqueness of the Queen Program, with its emphasis on community building and volunteer involvement, really make it stand out as an experience that any young Japanese American woman will benefit from."
Dr. Cindy Sakai has been practicing Optometry in the East Bay for 14 years. She recently became a partner at Rockridge Optometry in Oakland. She is also a UC Berkeley Assistant Clinical Professor at the California School for the Blind.Dr. Sakai enjoys serving on the Cherry Blossom Alumnae board and has been the CBA Secretary for 4 years. Her recent efforts at finding former court members has been very fulfilling, and brought her into contact with court members from the beginning of the Northern California Cherry Blossom Festival. She is thrilled to be a part of the upcoming 50th Anniversary planning and festivities.