The Northern California Cherry Blossom Queen Program is a once-in-a-lifetime opportunity for young women to gain professional skills and become involved in the community. Court members will attend many events throughout their year, where they will meet community leaders, give speeches, and volunteer. Keep reading to see how their experience as a court member impacted their life!
Are you a former court member? Join this Facebook Group to get the latest event news and volunteer opportunities!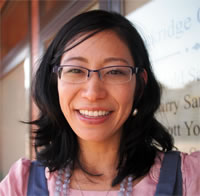 Dr. Cindy Sakai has been practicing Optometry in the East Bay for 14 years. She recently became a partner at Rockridge Optometry in Oakland. She is also a UC Berkeley Assistant Clinical Professor at the California School for the Blind.
Dr. Sakai enjoys serving on the Cherry Blossom Alumnae board and has been the CBA Secretary for 4 years. Her recent efforts at finding former court members has been very fulfilling, and brought her into contact with court members from the beginning of the Northern California Cherry Blossom Festival. She is thrilled to be a part of the upcoming 50th Anniversary planning and festivities.
There's no doubt to me that being in the QP positively impacted my life. Looking back, I realize that even though we had much better opportunities for education than earlier generations, there wasn't a lot for women in terms of community leadership. These days it seems that there's more awareness about the need for more women leaders and I think that the Queen Program exemplifies those objectives. Furthermore, the uniqueness of the Queen Program, with its emphasis on community building and volunteer involvement, really make it stand out as an experience that any young Japanese American woman will benefit from.
---
Rene Shimada Siegel, 1982 Queen
René created High Tech Connect to empower her Silicon Valley marketing and communications colleagues with expert consultants. She's also a columnist for
Inc.com
, and has been featured in
Forbes, The Wall Street Journal,
and
Newsweek Japan.
René is also a frequent speaker on entrepreneurship, career advice, social media, and personal branding.
She is a proud mother of three children—two in college and one working in New York—and she and her husband live in Livermore, California.
I applied for the pageant when I was only 18 years old, and to be honest, it was a rebellious act. I was at college, on my own for the first time, and applied without even telling my parents. When my grandmother found out, she said, 'You can't do that. You don't have any talent!' I was shocked when I won, and that amazing year changed my life. I found my voice, my confidence, my Japanese heritage, my passion for helping others. I even changed my major from chemical engineering to public relations. I'm eternally grateful for my Cherry Blossom experience!
Click
here
to watch René's commencement speech at San Jose State University where she talks about the Queen Program's impact on her life.
---